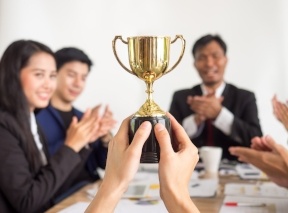 When you believe in what you do, and you let that passion shine, you can make a difference— no matter where you are.
I've always wanted to work for a company that cares about people and its employees, not just the profits. At IRAR, it's easy to give 110% because I know I work for the best self-directed IRA custodian in the nation— I can say this with confidence. I don't just say that because I work here, I say it because I've worked in this industry for over a decade, I've seen how it works from the inside, so I know what we're doing is different.
IRAR stands out, and that's why I'm here.
Finding Where You Belong
I wasn't born a marketer. One of my first jobs was Shift Manager at McDonalds while still in high school. Even at a young age, it was clear I had the drive to push through, no matter the challenges— displaying traits of the "Commander" from an early age. It's what they call me at IRAR due to my "get-it-done" nature and my motivation to succeed. Don't get me wrong— we joke about it, but everyone knows that it's my tenacious personality that has made me who I am today. A mentor to some… a pain in the butt for the competition.
I've been in the self-directed IRA space for over a decade, working my way up from project coordinator to CMO. Yes, it took a lot of burgers, IRAs, hard work, and commitment to reach the title I hold. My journey has not been easy— but here I am.
I was recently asked, "How do you know what company you want to stay at, when you've found the right place to hang your hat?" My response? —I know because I have aligned myself with like-minded professionals, people with a shared vision, who are focused on improving our industry and the way people save for retirement.
My passion for marketing and my need to make a difference in people's lives is so strong that I have decided this is where I belong— in the self-directed IRA space, this is how I contribute.
Aligning Myself with Winners
I met Liane Bathey and Jason Craig about 10 years ago. The company I worked for at the time provided services to Liane (CEO and founder of IRAR), and Jason was the president of our company (later to become my boss). Liane's devotion to her clients, her roll-up-your-sleeves attitude, and dedication to her company was something that I have always admired. She always makes sure that her clients are serviced quickly and accurately, on their timeline. Jason, with his extensive experience in banking, is someone that makes wise and thought out decisions— but can deliver a strong message on the fly as well. I had the opportunity to work with both closely prior to joining IRAR, and I liked what I saw.
It's incredibly important to me that the people I work with are open, upfront, and honest. I'm naturally very candid, I don't hold a lot back— and I need to know that I'll get that in return.
When it was time to move on from my previous employer, as a marketer in high demand, I had a number of options— I didn't have to stay in the self-directed IRA industry. However, I chose to stay in this space because I believe in leaders— leaders like Liane and Jason— and wanted to be part of a team of experts with a vision, with a mission. A team I could trust.
And so, we became that team— an unbeatable team, a team with a unified purpose. The Voltron Team, as some have called us, combining our unique strengths to make something even better than imagined.
So, How Do You Align Yourself with Winners?
The way to align yourself with winners is to find individuals that compliment you, share your vision, and help you reach your goals— and build the right team to get things done.
Here are some of the characteristics of winners to look out for:
Intelligence - There is a difference between being smart and being intelligent. A lot of people are smart, but not everyone is intelligent in their choices and decision making. Winners are smart, sure— but they're not just smart.
Honesty & Transparency - They do as they promise, even when it's not always in their best interest. They know if they say they're going to do something, they do it. Winners keep their word.
Go-Getters - They work hard and are ambitious. When the time comes to put their nose to the grindstone, they don't hide— they volunteer to go first. Their focus and strategy is aimed towards growth. Winners know that stepping up and getting things done is the key to success.
Like-Minded - They share your vision and your values. If your team is on the same page, working towards shared goals, there's nothing you can't do. That's not to say you should agree on everything— diversity makes a team strong, and you won't always see eye-to-eye, but that's a good thing! Winners know that aligning your values and goals, while encouraging diversity and creativity, gets the best results in the long run.
Contribute - They want to make a positive impact on people's lives. Not content to just do mediocre work, they want to actively change things, both big and small. Constantly looking for ways to improve themselves and others, for the good of the company. Winners know that when one of us wins, we all win— and buy-in is the best way to get there.
Our IRAR team is growing incredibly fast, attracting the right employees, clients, and business partners, in big part because we stand strong behind our principles and mission statement.
Working at IRAR has shown me the true meaning of team work, and what an impact it makes when your whole team really cares about making a difference day-to-day.
Everyone at IRAR is as committed as the management team, striving for excellence every single day. We truly believe that we can help people build wealth through alternative investments at lower cost, without compromising our values— not one bit.
I may not be literally saving the world one IRA at time, but I know we are making a real difference in people's future— because we truly care.
Learn more about IRAR and join our winning team.