---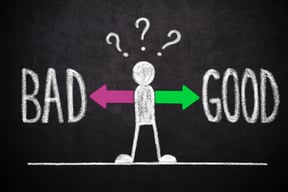 Believe me, after 13 years in the self-directed IRA industry, I've heard it all: the good, the bad, and the downright weird. Yet, I remain committed to the promise of self-directed IRAs. I also believe passionately in the power of knowledge. If you're considering a self-directed IRA, what you don't know can hurt you. Finding the right self-directed IRA administrator requires research. Here are some of the worst kinds of self-directed IRAs and how to avoid them.
The Not So Self-Directed IRA
Most banks or brokerage firms offer a self-directed IRA. But just how self-directed is it? Too often, their idea of self-direction is giving you a list of boxes to check off to indicate your investment choices. A truly self-directed IRA allows you the freedom to invest in assets typically not on the list: real estate, private placements, and other non-traditional investments. In fact, Internal Revenue Code Section 4975 states that the only investments NOT allowed in IRAs are collectibles and life insurance.
To do: Whatever asset you want to invest in, ask the salesperson if it can be held in a self-directed IRA at that institution. If the answer is no, keep looking.
The Silent Self-Directed IRA
We've all called a business onl y to have the call answered by a robotic voice offering a list of options "to better direct your call." When you finally reach a person, he often can't help you and you are routed to the next level of support. And if that level of support cannot answer your question you get routed again. Sorry to say, this happens in the self-directed IRA industry as well. It could be a sign of high staff turnover or a lack of employee education and training.
To do: Research the company's leadership team, staff, and history. If they can't answer your questions, try another firm and compare your experiences.
Relevant: 4 Tips to Compare Apples to Apples Before Opening a Self-Directed IRA
The Required Self-Directed IRA LLC
Some self-directed retirement companies require that you create an LLC for your self-directed IRA. They will even generously offer to create it for you. That's because they make profits from creating LLCs. Most of these firms also offer low fees and very attractive incentives to go along with the LLC. These firms are counting on you not knowing that an LLC is not always required or desirable.
To do: Do the research to see if your investment strategy requires an LLC. Verify the annual fees or taxes you might get stuck with If you choose an LLC.
The Cheap Self-Directed IRA
Growth and competition in the self-directed IRA space have reduced fees. That's good, as far as I'm concerned. What's not good is companies touting what looks like a good deal or discount, but comes with a lot of fine print and very bad service.
To do: When researching companies, compare fee schedules, but even more important, compare the service, response times, and the answers to your questions.
The Bloated Self-Directed IRA
Self-directed IRA companies come in many forms and sizes. Or should I say, all fees and sizes? It seems that the larger the company, the higher the fees. Perhaps they offer exclusive services that justify these fees. Do you need exclusive services? What exactly are you paying for? Put your money in your IRA not in their pocket.
To do: Compare prices to make sure you are getting what you are paying for and understand any additional fees.
If you want more insights and education (no fluff) into the real wonderful world of self-directed IRAs, subscribe to our blog.