3 Tips to Protect your IRA Savings During the Coronavirus Pandemic
The potential impact the Coronavirus will have on retirement savings can trigger fear and anxiety among investors. However, we must remain calm, stay healthy, and make well-educated decisions. More importantly, we must keep a positive attitude and take precautions to get through this.
Protecting your retirement savings during unprecedented times is important. Scammers look for opportunities to take your money, especially during times of emergencies. Be cautious of emails, texts, phone calls, or social media posts. If it sounds too good to be true, it probably is.


Here are 3 tips to help you protect your IRA.
1. Beware of investment scams
The most effective way to dodge fraudulent investments is to research a company thoroughly, and there are many ways to do this. Of course, you can do a general online search to check for any negative news or negative reviews. But to dig deeper, you can turn to official sources like the SEC (sec.gov) or the North American Securities Administrators Association (NASAA, nasaa.org) to double-check for hidden risks associated with the investment.
Be aware of red flags that could come from companies offering investment opportunities. Most bad actors will promise guaranteed returns, but they tell you that you must "Act quickly, today!" If a company presents a sense of urgency, consider it a big red flag. Immediate investments don't allow you time to research and think about the pros and cons of what you're doing with your money. A company that has nothing to hide would encourage you to take the time to investigate it further.
Before you hand over your hard-earned nest egg, get an opinion from a licensed, unbiased financial professional or an attorney.


2. Look up licenses before you designate an IPD
You can designate someone to act on your behalf through an authorization called Interested Party Designation (IPD). People who are your IPDs, commonly a spouse, have access to your account information. Know who has access to your IRA.
Sometimes investment providers or financial professionals will act as your IPD. They might be responsible for working with the IRA custodian and getting documents in order for you to make an investment. This is very common.
Most of IPDs are licensed or regulated financial professionals. However, some are not. Regardless of their title, research their background and see if their credentials are in good standing. See if the person has a criminal background, or if their license has been suspended. You can check their specific credentials through agencies regulating their exact profession, the Investment Advisor Public Disclosure website for investment advisors or Financial Industry Regulatory Authority's (FINRA) BrokerCheck for brokers.


3. Diversify your portfolio
It's time like these that remind us to have a well-diversified retirement portfolio to weather a recession. Talk to your financial advisor about self-directed IRAs and alternative investments outside the stock market.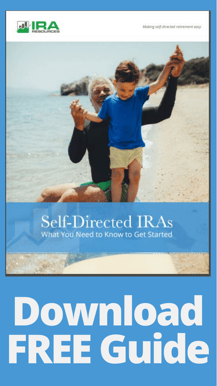 Using a self-directed IRA to invest outside the stock market can help diversify your portfolio, and maybe even boost your savings. However, it's not for everyone. You must be responsible about conducting due diligence on your investments. You make all the investment decisions for the IRA, and you are also responsible for avoiding fraud. It is not the custodian's responsibility to do that research.
Keep in mind, you don't need to transfer. You and your financial advisor can determine what's the best option for your situation. Plan your strategy before you decide to open a self-directed IRA. Don't act on emotions or impulse.
If you already have a truly self-directed IRA, congratulations! You are better off than most investors who have all their retirement savings in stocks, bonds, or mutual funds.
Protecting your financial future is important during times like these, but before taking any kind of action, understand and research what you are getting into. Be aware that it's scam artist season out there. Make well educated decisions, don't invest on impulse and be aware of the consequences for any action you take.
Stay healthy and give us a call if you need more information on self-directed IRAs, 888-322-6534.
Investor Resources